The story begins with Klaudias daughters Malina and Lola. Like all little girls, they love beautiful things and want to wear fun jewelry like mommy. She wanted make something special for them and so thought about taking one of their favorite accessories – colorful ribbons – and designing something special for them.
So they took ribbons and strands of pearls to make fun pieces for the girls to wear.
Suddenly Klaudia found something she had done for fun for her girls became something every woman wanted. After requests to make friends and family similar pieces, she ander her sister Annette decided to reinvent the pearl necklace. With their first collection in 2010 the company MALiiNA was founded.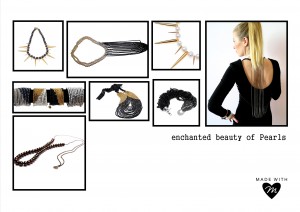 Brand identity
Maliina Jewelry stands for luxury and style grounded in natural materials. The designs are for women who want stunning jewelry that stands out and reflects their own personalities.
The designs can be at the same time classy and sexy and playful but always beautiful.
Learn more about the brand and buy the collection online on www.maliina.com.
And if you wish to receive high res pictures of the current collection, please send an email to s.koeneke@elitesse.net to get access to to the press server for downloads.