"Mill" is the material, around which turns the over forty-year old history of the company Giesswein. The wool-material and its positive characteristics were well-known to our ancestors already thousands of years ago. The material protects against wind, cold weather and wetness, as mill has a natural temperature equalizing effect (thus warming and refreshing), is water-repellent and air permeable.
The Raw Material – the Wool.
The wool is purchased from yarn and wool spinning mills mainly within the European UnionThose wool mills import the wool mainly from Australia, New Zealand and South America, as there are not enough sheep in Europe to fill the needThe Australian wool exchange is the biggest marketIn Australia, there are about 160 Million sheep. They represent around 14% of the world's total sheep population
How it all begann
1954
Elisabeth und Walter Giesswein found the Giesswein company. Knitting works for private customers are followed by the first milling tests in the in-house washing machine.
1983
A new collection idea is introduced at Giesswein´s with the first women´s combination collection. Suitable skirts made of wool, cotton or viscose offer a versatile combinable ensembles together with cotton and line blouses.
1986
The first appliqué jacket conquers the Prêt à Porter in Paris. Sales become international through the foundation of a new sales office in Italy.
2009
For the first time Giesswein presents its new HOME Collection. Trendy covers and pads from high-quality milling materials play the leading role in this first collection.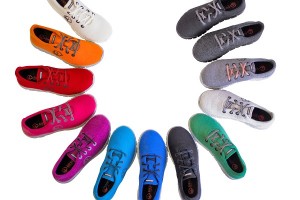 Today GIESSWEIN stands for an enormous variety of mill products. The latest one are the Merino runners for him and her. They are flexible, light and temperature-regulating.
To learn more go to www.giesswein.com.