Eine waschechte Berlinerin: die Marke ar – Anke Runge Berlin hat sich mit hochwertigem, wiedererkennbarem Taschendesign etabliert und sich eine weitreichende Stammkundschaft erworben.
Die Taschen
aus bestem Leder sind edel und hochwertig. Durch ihre Funktionalität, das ausgeklügelte Innenleben und vielfältige Tragemöglichkeiten werden sie lebendig und überraschen.
Form + Funktionalität = Das Design
ist inspiriert von Architektur, Kunst, Musik und Natur und von der Stadt – Berlin. Anke Runge -Taschen sind zeitlos, schnörkellos klar und elegant.
Das Ladengeschäft / Die Manufaktur
liegt in der Mitte von Berlin, zwischen Museumsinsel, Galerien und Restaurants. Die Taschen schweben an einer großen Magnetwand (by Matthias Wolff) gegenüber dem Schaufenster. Eingelassene Lichtkränze simulieren Tageslicht und sorgen für die richtige Wahrnehmung von Farbe und Struktur des Leders. Im hinteren Teil des Geschäftes befindet sich das Herz von Anke Runge Berlin, die Werkstatträume, in denen die Köpfe und die Nähmaschinen qualmen, in denen entworfen und gefertigt wird.
Die Nachhaltigkeit
Anke Runge achtet bei Ihrer Einkaufspolitik auf kurze Wege. 95 % der Materialien kommen aus der EU, Leder aus Deutschland und Italien, manchmal Spanien, und entspricht den EU-Richtlinien. Die Kollektionen Agatha und weekender sind aus hochwertigstem Ökoleder, pflanzlich gegerbt und gefärbt. Die wichtigsten Verstärkungsmaterialien werden aus recycelten, vegetabilen Lederresten im Verbund mit Latex hergestellt. Materialreste werden an Kindereinrichtungen und Ausbildungsstätten gespendet. Strom kommt aus erneuerbaren Energien.
Mehr zur Marke auf www.ankerunge-taschen.de.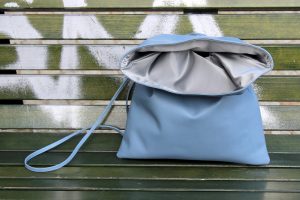 It's a Berliner! The company was founded 1997 in Berlin-Mitte under the name Penthesileia. Today, the name of the designer Anke Runge is the trademark. The brand ar – Anke Runge Berlin has established itself with high-quality, recognizable bag design and acquired a wide-ranging clientele.
The bags
are handmade of the finest leather. They are precious and of the highest quality. Their functionality, their ingenious inner life and diverse ways of wearing them vitalizes and surprises.
Form + Functionality = Design
inspired by art, music, architecture, nature and the City – Berlin. Anke Runge bags are timeless, pure, definite and elegant.
The Store / The Workshop
is located in the center of Berlin, between the Museum Island, galleries and restaurants. The bags float on a large magnetic board (by Matthias Wolff) opposite the shop window. Recessed lighting simulates daylight and guarantees the correct perception of leather color and texture. The heart of Anke Runge Berlin lies at the back of the shop: this is where new ideas are hatched and the sewing machines hum, where design and manufacturing take place.
Sustainability
Anke Runge pays close attention to short routes when it comes to purchasing resources. 95 % of the materials come from the EU. All leather comes from Germany and Italy, sometimes from Spain and complies with EU directives. Two collections Agatha and weekender are made of high quality vegetable tanned and dyed leather. The main reinforcement materials are made from recycled organic leather scraps bonded with latex. Remaining materials are donated to children's institutions and training centers. Electricity comes from renewable sources.
Learn more on www.ankerunge-taschen.de.